Social Media and Humanitarian Protection: Baseline Survey Results
From April 11 to May 8, 2012, the Program on Humanitarian Policy and Conflict Research (HPCR) at Harvard University conducted a baseline survey on the humanitarian community's use of social media. HPCR presented the survey results during a Live Web Seminar on May 10, 2012. This blog post examines some key findings of the survey in more detail.
Over six hundred respondents completed the survey. And though one can garner many valuable insights from the results, one must approach the data with a certain degree of caution. The survey was not a scientific poll but instead details information gathered from a self-selected subset of the humanitarian community. Individuals already interested in social media were likely to be more inclined to take the survey. And — since HPCR circulated the survey via email and on social media sites, such as LinkedIn, Facebook, and Twitter — tech-savvy humanitarians were more likely to find out about the survey. For these reasons, one cannot interpret the survey results as representative of the humanitarian community as a whole. Rather, the data provides a snapshot of a certain self-selected group of humanitarian professionals. But even with these caveats, the results highlight several areas worthy of further attention.
Who Are the Survey Respondents?
As the below graph indicates, a large plurality of the survey respondents were individuals directly involved in humanitarian operations.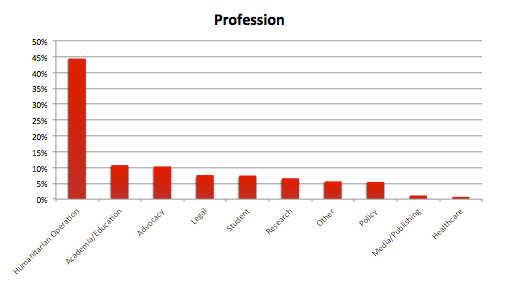 And the survey did not capture merely the opinions of young professionals — as one might presume given the perception of social media as youth driven technology. Rather, the survey largely attracted seasoned humanitarian professionals, as demonstrated by the below graph.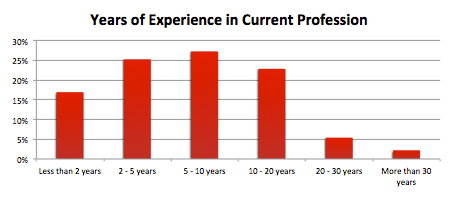 The graph does show that a significant proportion of respondents had five or less years of experience in their profession, and the graph dips in the "20 – 30 years" and "More than 30 years" ranges. But the high percentage of respondents in the "5 – 10 years" and "10 – 20 years" ranges seems to indicate a strong interest in social media among mid-career humanitarian professionals. Indeed, the data shows that a majority of the survey respondents — 58 % — had 5 years or more of experience in their professional fields.
Additionally, the respondent pool represents a wide geographic scope, as shown by the below pie chart, which details the survey respondents' regions of operations.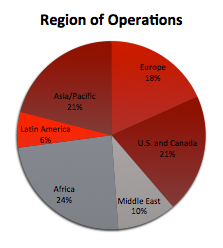 One somewhat surprising result indicated by this chart is the high percentage of respondents working in Africa and the Asia/Pacific region. Africa represents the largest respondent group, and Asia/Pacific ties the United States and Canada for second place. Though, as noted above, one should approach this data cautiously given the aforementioned caveats, these results could be indicative of the bourgeoning interest and growing importance of social media in these regions.
How Are Respondents Using Social Media?
The two graphs below address how survey respondents are using social media. The following graph shows respondent answers to the question: "For what purposes do you use social media related to your profession?"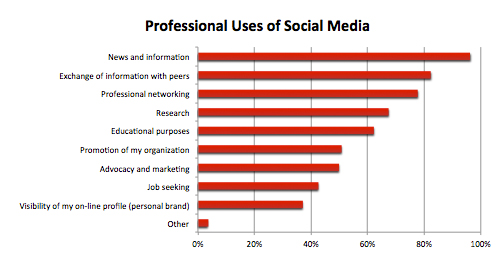 These results challenge the conventional notion that social media is primarily used for advocacy and self-promotion. Indeed, these categories — "Promotion of my organization," "Advocacy and marketing," and "Visibility of my on-line profile" — rank at the bottom of the list. The top five most popular social media uses — "News and information," "Exchange of information with peers," "Professional networking," "Research," and "Educational purposes" — all involve exchanging information and building professional networks, which suggests that humanitarian professionals are interested in using social media platforms as forums for building a community of practice.
The following graph — which shows respondent answers to the question, "In this context, on what types of topics do you engage?" — confirms this notion.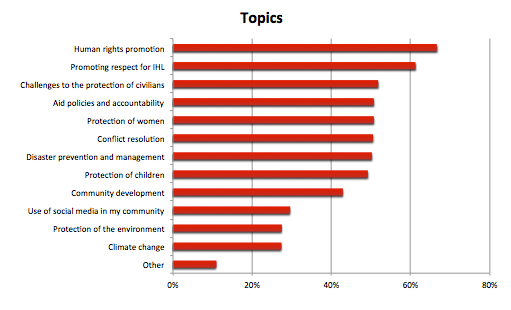 The graph shows the wide breadth of topics that humanitarian professionals are discussing on social media platforms. In particular, the graph highlights the prominence of social media's normative potential, since the two most popular categories — "Human rights promotion" and "Promoting respect for international humanitarian law" — are normative in nature. These data points suggest that humanitarian professionals are engaged in harnessing the normative power of social media and that social media is likely to play a key role in the future development of legal and professional norms.
Perceptions of the Future of Social Media
And what do the survey respondents believe about the future of social media? The following graph answers this question by displaying the percentages — broken down by age group — of respondents who answered that social media "will increase and will have a growing impact on humanitarian action."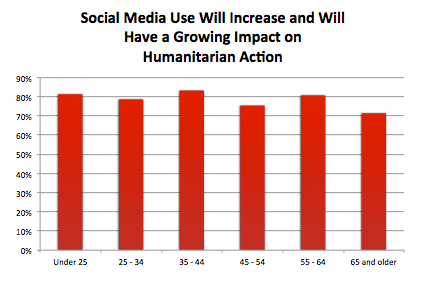 Large majorities, in every age group surpassing 70%, believe that social media's relevance to humanitarian action will increase. Though there are slight variations across age groups, this data demonstrates that interest in social media is not confined to younger professionals but rather spans multiple generations.
Perceptions of Employers' Social Media Proficiency
The final graph, viewed alongside the graphs above, suggests a key challenge for humanitarian organizations. The below bar graph represents respondents who answered, "My employer has a social media strategy/plan." The overlapping line graphs detail respondent perceptions of whether their organizations are "lagging, unaware, or opposed to social media," "on par in the use of social media," or "a leader in the use of social media."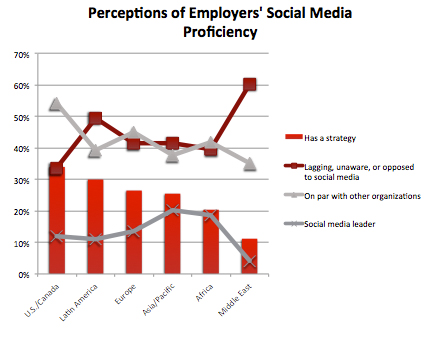 This graph suggests that — despite the importance of social media to building a community of practice, the widespread the use of social media for normative conversations, and the perception that social media's impact on humanitarian operations will continue to increase — humanitarian professionals do not perceive their organizations to be adequately engaging with social media. In every region, less than 35% believe that their organizations have a social media strategy. And in every region, even smaller percentages identify their organizations as social media leaders. An apparent disconnect exists between the growing importance of social media to humanitarian action and the robustness of humanitarian organizations' social media engagement. Though, as noted above, one should view this data with caution given the self-selective nature of the survey, the starkness of this disconnect suggests that this topic is worthy of further research, analysis, and discussion.

More on:
social media